---
For Dollshouse, Craft And Nail Art
¡Ya está disponible! Nuevo Libro Impreso En Español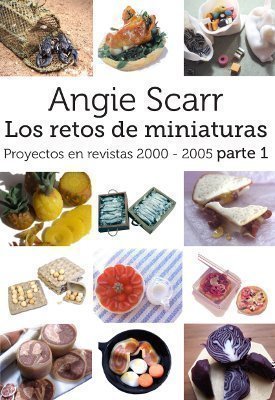 El Libro Retos De Miniaturas
Los primeros 18 proyectos aparecidos en la revista DHMS. A5, 62 paginas.
2000-2001

¡Ya está disponible!

Los Retos Parte 1 Hasta España £ 9.50 gastos de envío £1

Los Retos Parte 1 Hasta Europa £ 9.50 gastos de envío £2

Los Retos Parte 1 Afuera de Europa £ 9.50 gastos de envío £3
Usefresh This Week

This week we have tomatoes, lettuce, cucumber and watermelon on the Usefresh Canes Page. When they are gone, they are gone so get them now!
New in December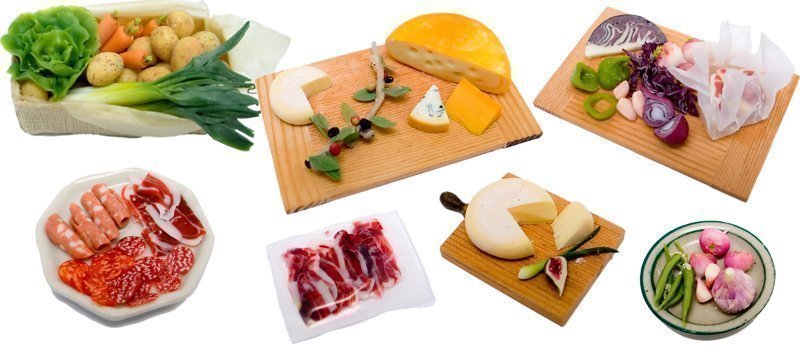 New items in the Miniatures Market Place
New style vegetable boxes in sacking; cheese and olive board; purple vegetable preparation board with red cabbage, turnips, garlic etc.; mixed meat plate; sliced jamon in plastic wrap; cheese and fig board; purple vegetables on collectors plates.
New Book Angie Scarr - The Challenges (English) - Out Now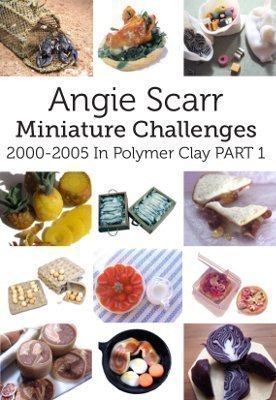 Eighteen groundbreaking projects covering the innovation and progression of many of Angie Scarr's polymer clay techniques, which are now standard in miniature food making today. A5, 62 pages.

This part is a look back at the "Challenge Angie" series of articles from 2000-2001 in Dolls House & Miniature Scene magazine. A chance for a new generation to see these originals, now long out of print, all written in Angie's slightly irreverent style.

To UK and Europe £9 plus £2 postage

Outside Europe £9 plus £3 postage

Also available as an ebook via Amazon, in several languages.
NEW Moulds and Veiners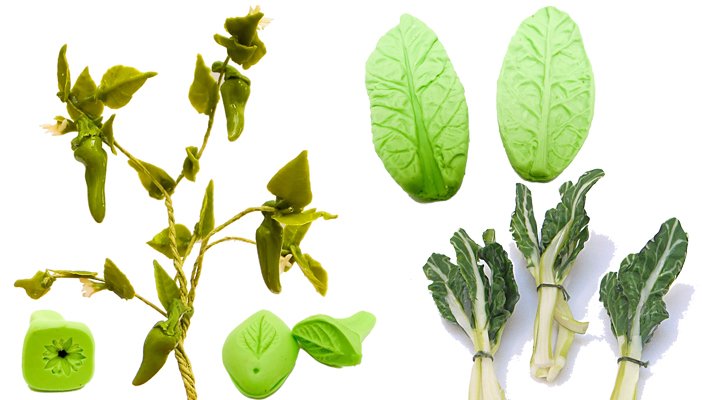 New this season, a set of moulds and veiners for vegetables, leaves and flowers. The Calyx mould for flowers and peppers etc., Leaf Veiner #5 push mould for peppers and beans etc., Leaf Veiner #6 for chard, beets etc.

Get them on the Craft Tools and Moulds Page.
NEW: Angie Scarr's Colour Book
NEW Angie Scarr's Colour Book
Nature's Colours For Polymer Clay, A5 size, 104 packed pages
---
The books are being posted from Spain, and England whenever it will be cheaper than our normal Spanish postal charges. Just click a Buy Now button below and pay via PayPal.
---
Unsigned Books, Including Postage
To the United Kingdom £13.50
---
To Spain £13.50
---

To Europe (NOT SPAIN), e.g. France, Germany, Netherlands etc. £15.00

---

Outside Europe e.g. USA, Australia, New Zealand etc. £16.50

Angie's First ebook Is Here - Tambien En Español! - Maintenant, en Français!

Challenge Angie / Los Retos De Miniaturas Con Angie / Les Défis Miniatures d'Angie

A retrospective of groundbreaking projects covering the innovation and progression of many of Angie Scarr's polymer clay techniques, which are now standard in miniature food making today. A look back at the "Challenge Angie" series of articles in DH&MS, plus additional articles in British and American Dolls House magazines. A chance for a new generation to see these originals, now long out of print.

La mayor parte de parte 1 de esta colección es sobre los retos de Dolls House and Miniature Scene Magazine, pero también he incluido artículos publicados originalmente en otras revistas de miniaturas. La colección ha sido revisada y actualizada, conservando siempre la "esencia" de las ideas originales.

Here are a few links for your nearest region for the original English version

USA www.amazon.com/dp/B00I1KWKP4
UK www.amazon.co.uk/dp/B00I1KWKP4
CANADA www.amazon.ca/dp/B00I1KWKP4
AUSTRALIA www.amazon.com.au/dp/B00I1KWKP4

Y en España

ESPAÑA www.amazon.es/dp/B00LPQQ6CE

Maintenant, en Français

FRANCE http://www.amazon.fr/gp/product/B00MV8VBWK

Europe and most other amazon regions are accessible through your normal store looking for title "Angie Scarr Miniature Challenges" or ASIN Number B00I1KWKP4

We are working on translations in several other languages including Italian, German and Japanese.
Canes, Fine And Superfine Slices Page
All available from the Canes, Fine and Superfine Slices
Page.

Canes: For the DIY miniaturists and craft professionals, to be sliced with single sided blades.

Fine Slices: These are for miniaturists and crafters who don't want to slice for themselves.

Superfine Slices: These are specially designed for nail artists, and can also be used for home application, see instructions at the bottom of the page.

Sizes:

1/6th (small) is "Barbie" or playscale

1/12th (mini) is normal dollshouse scale

1/24th (micro) is small dollshouse scale

other sizes (medium, large) are for art and craft use.
Craft Tools and Moulds Page
A collection of flexible moulds available from the Craft Tools and Moulds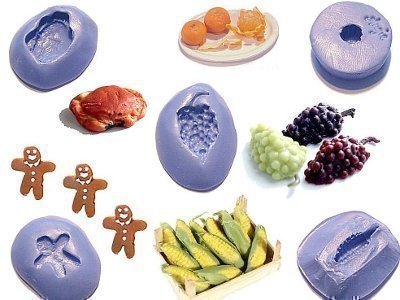 Page. Minitmold is a foodsafe material that may even be used for chocolates etc.
Workshops
If anyone is interested in doing classes please get in touch via the form below. Angie will travel anywhere that can get a group together.
6 Jul 2015
- 10 Jul 2015

Denmark: Tune 2015
Vegetable Garden 3 day workshop and Tree 2 day workshop
Location: Tune Conference Centre, Greve
Contact Address: http://miniatureitune.com/
Extra Details: BOOKINGS OPENED IN OCTOBER 2014. Go to "Registration" on the site to reserve a place on the tree making course, the 3 day vegetable garden is already overbooked.

Classes at my house!

Our village house in Andalucia is still in the middle of it's self-build. That is to say I'm juggling making miniatures, keeping the online business up to date, visiting mainly European fairs and doing building works ourselves. We are beginning to take bookings for small groups and individuals who wish to combine practical classes with a holiday in the beautiful Sierra de Aracena.

See the new Classes At Home page for more details. If you can't make it here, there are a number of workshops around Europe and Japan, click here for a list
Contacts
Please type your message in the form below and click "Send" when you are finished. You must have Javascript enabled for this form.


Tel +34 636 537 175 (Spain)
It's BACK!! Angie Scarr Miniatures MinitMold

New sizes of packaging. Safe, non-toxic and pleasant to use.

Make your master or choose your leaf or other item to mould from. Mix 2 equal amounts of the two-part MinitMold. Form the mould around the item you want to reproduce, either by pressing the item into the mould, or the mould material onto the item. The material sets in minutes to create a flexible mould suitable for use with many different materials. As shown on the Liquid Fimo DVD below.

Sample size 2x30g, Standard size 2 x 50g packs. Get it on the Craft Tools and Moulds page. (Postage payable on craft items)
Miniaturists, Nail Artists and Crafters - Welcome to the site!

Using The Site You can order straight away without account details - Paypal will provide all of them when you pay. For trade customers, at the left of the page are options for Create A New Account to let you register, and My Account to track orders. Traders should register as such and use trade ordering (from My Account) for any wholesale purchases.
News: Angie is taking a break to write books and make new products. All orders will be fulfilled by Frank's Craft Shop.

We have started to reorganise the website now that I'm diversifying into other craft areas. Or, rather, concentrating on polymer clay caning! There will now be new sizes for those interested in other scales such as Playscale ('Barbie scale'), nail art, scrapbooking and other crafts which use my canes and the new 'superfine' slices and 'art veneers'. Please keep looking in to see what's new. Remember many designs don't get repeated. So, if you see it ... and you want it ... Get it!


Site Redesign We hope the new layout makes sense to everyone now, with all the canes and slices in one place to avoid confusion. Each item has its type (fine slice, superfine slice or cane) and a size from 1/24, 1/12th, 1/6th to larger craft sizes. The trade page in particular is now much clearer to help find the right type of item. We have finally added our Links section, if we missed you out feel free to get in touch via the contact form. The new layout is now a lot easier to use.
Spain Frank and I have moved house to Spain and have now transitioned to being a Spanish company. However we will still be charging in pounds and functioning just like an English company. We now send a PayPal payment request when the order is ready to ship. You do not need a PayPal account to pay by card.
Ordering You can now order using Paypal. No money is taken until your order is packed and ready to dispatch. When the order is ready we will send an email to your registered address. NB European trade customers can now order using bank transfer also.
The new website and it's management system is working magnificently well. Almost like having an extra unpaid admin assistant!. See Frank's site www.networkadvice.co.uk for details if you are interested in having a similar management system which can be particularly useful for the small but busy craft business. Frank also writes smaller, simple contact only pages for a very reasonable price, and all points in between!
Postage charges We now have a small sample size of Minitmold available just under the weight limit for excessive postal charges in Spain. Get it on the Craft Tools and Moulds page.
Bananas Masterclass

| | |
| --- | --- |
| | It shows how simple it is to make the 'difficult' banana shape for single bananas and bunches. It also demystifies the seemingly complex pattern in the centre of a banana into one simple repeated cane, and has a little fun with banana skins. It finishes off with (unusually for Angie) a little use of paint and pens. |

Bananas Masterclass Item

Price

Order Quantity

Bananas Masterclass UK/EUR

£ 5.00

Bananas Masterclass USA

£ 5.00

Diane Harfield - Miniature Flowers and Plants

In this DVD Diane, a highly respected miniaturist, covers plants and flowers for all seasons.

Starting in spring with primroses, violets and daffodils, covering poppies, wheat, tulips and roses for summer, oak and fern for autumn, and finishing winter on poinsettia, holly and wreaths.

Diane also gives valuable tips about tools, materials, cutters and glues.

Diane primarily uses cold porcelain, a medium that allows ultra-fine work for delicate petals and leaves.

Diane Harfield - Miniature Flowers and Plants Item

Price

Order Quantity

Diane Harfield UK/EUR

£ 5.00

Diane Harfield USA

£ 5.00

Exotic Fruit Masterclass

| | |
| --- | --- |
| | A short (30 minute) DVD or video on making kiwi and strawberries. |

Exotic Fruit Masterclass Item

Price

Order Quantity

Exotic Fruit Masterclass UK/EUR

£ 5.00

Exotic Fruit Masterclass USA

£ 5.00

Fill Your Doll's House

Volume 1: Fruit And Vegetables

This is the original video re-filmed for DVD quality, and enhanced with new techniques to make your fruit and veg even more realistic. This new version includes the Skinner shade technique combined with Angie's own development of the offset stacking technique for leeks.

Make apples and oranges whole, cut and peeled, leeks, onions in strings and sprouting, curly cabbages and cauliflowers.

Fill Your Doll's House Item

Price

Order Quantity

Fill Your Doll's House Vol 1 UK/EUR

£ 5.00

Fill Your Doll's House Vol 1 USA

£ 5.00

Liquid Fimo

| | |
| --- | --- |
| | A full length (90 minute) DVD or video on projects using Liquid Fimo, from jams, stews and other foods through to stained glass windows. |

Liquid Fimo Item

Price

Order Quantity

Liquid Fimo UK/EUR

£ 5.00

Liquid Fimo USA

£ 5.00

Making Miniature Foods Book

Price: £16.99

Angie's first book covers miniature foods for use in the house or market stall, ranging from deli through meat, fish and vegetables. Buy it direct from the author!

We are now into our sixth edition of "Making Miniature Food", it is a GMC Best Seller! Copies of the book will now only be signed on request. Thank you everyone who has taken the time to let us know how much you are enjoying the projects. Apologies to all the family members who aren't getting fed! PLEASE NOTE: postage costs have recently gone up in Europe, but the new book will fit in the postage band with this one at no extra charge.

Miniature Food Masterclass

Price: £16.99

Available NOW!

Start a voyage of discovery with Angie Scarr as she shares the secrets of her amazingly intricate work in a variety of materials and invites us to join in with her passion for miniature food.

Packed full of new techniques, materials and projects for all miniaturists to delve into, this book is illustrated with easy-to-follow, step-by-step pictures throughout.

Find out how to create a variety of food canes, liquid and translucent effects, glazes, moulding and veining all to amazing real-life effect.

Just some of the projects created with extraordinary attention to detail are: chocolate buttons, heart-shaped cakes, royal icing cheesecake, toffee apples

FREE GIFT: a free Angie Scarr Pies and Tarts DVD (as recommended by Montse's cat Patufa!) if you order the book here . Available for £5 anywhere else!

Angie Scarr is a highly regarded miniaturist, well-known worldwide for her intricate polymer clay work. She is constantly pushing the boundaries of her craft, exploring new techniques and materials. Angie's previous book for GMC Publications is the best-selling Making Miniature Food and Market Stalls.

Pineapples Masterclass

| | |
| --- | --- |
| | A short (30 minute) DVD on making pineapples. |

Pineapples Masterclass Item

Price

Order Quantity

Pineapples Masterclass UK/EUR

£ 5.00

Pineapples Masterclass USA

£ 5.00