We ship worldwide, please choose your area and currency
Why click through from my website?
Because at NO extra cost to you, going through that way actually gives us a little more income (and we appreciate that!) in the form of vouchers that I can spend on tools etc. through something called the Amazon affiliate scheme. The links will direct you to your country's Amazon site.
NEW: Cricut & Construct #1
Miniature paper flower ideas for cutting machines
If you have a Cricut Maker, a Silhouette Cameo, a Brother ScanNCut or a laser cutter and you're a miniaturist, you're going to love this book.
It shows how you can work with Angie and Frank's SVG designs (available as separate bundles) plus it leads you through the design principles and cutting tips for your own designs.
This book helps you to make stunning displays of dollhouse or even Barbie-scale paper flowers and card display items.
• Design how-tos
• Cutting tips
• Painting techniques
• Assembly guides
• Display ideas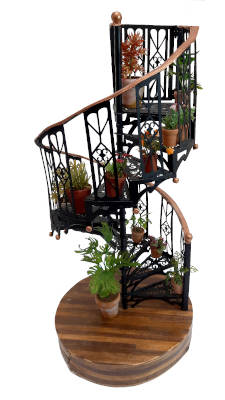 NEW: Simple Mold Making Book
Quick molding ideas for miniaturists, model makers, jewelry artists, cake decorators, potters and animators. Making molds at home can be very easy. You can develop an idea from the initial concept to the finished mold without having to learn any 'dark-art' techniques.
In this book you will find a selection of the best tricks from Angie Scarr's 25+ years of experience as a 12th scale miniaturist working with 2-part, hand mixable silicone molding pastes.
Using molds means that you can concentrate limited sculpting skills on creating just one beautiful item, then produce a number of identical copies. You can take shortcuts, and save a lot of time and energy.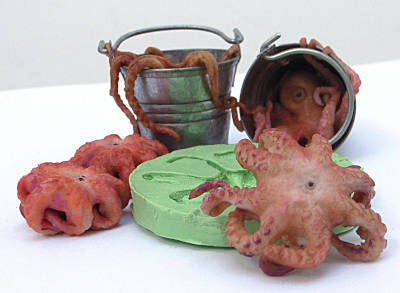 New Size: Angie Scarr's Colour Book
Nature's Colours For Polymer Clay, FULL size, 107 pages
New! Republished in larger size.
If you want to take you polymer clay art works to the next level of realism this full size edition of Angie Scarr's Colour Book will be one of your very best friends.
Have you ever been frustrated when your polymer clay colour mixes didn't come out as you expected?
Have you ever wondered why some artists/miniaturists work just jumps out at you as more realistic?
Did you ever wonder why some polymer clay miniature foods just look heavy and unrealistic?
Do you understand the relationship between polymer clay colours and the light under which they are displayed?
This Colour Book is a distillation of Angie's 30 plus years of finding out she was just a little more obsessed with the colour of fruit and vegetables and other elements of nature than most 'normal' people! When reproducing the colours of nature in polymer clay, pigment and light can become really complicated subjects as Angie discovered while writing this book. This is her exploration of, and attempt to simplify, the subject and make it accessible to all while still providing some meaty questions for the professionals among her readers to get their teeth into.
This book will be of interest to miniaturists and artists in polymer clay who wish to add serious realism to their art and are prepared to work to get it.
Click to buy print copy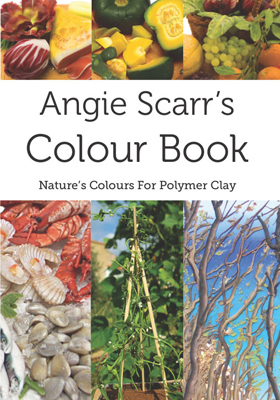 NEW:The Dollhouse Flower Shop
A riot of flowers in polymer clay but this time made like never before using stencils to 'print' the plant parts.
Stencilling with a mix of solid polymer clay and liquid clays is a new adventure for both Angie and her students. A patience-free way to produce the flowers in large enough numbers to fill a dollhouse shop.
These ideas look at new and different ways of using polymer clay to produce beautiful, delicate flowers and plants which are resistant to moisture and can be semi translucent, in delicate subtle or glorious strong colours without individual painting of leaves and petals.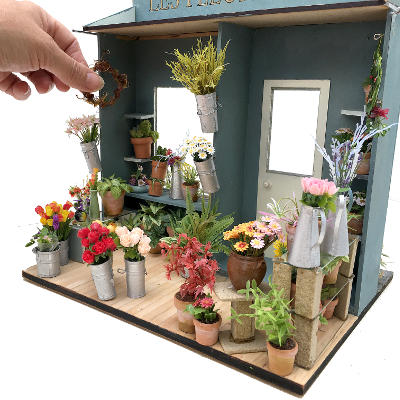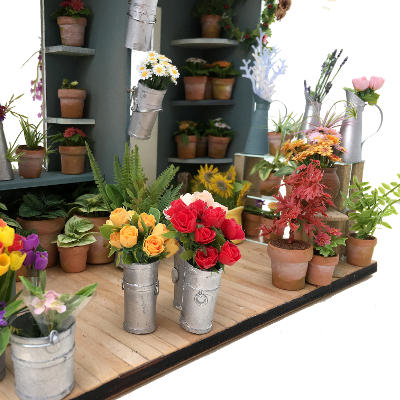 The Miniature Gardens Book
Once again Angie Scarr lets you peer into her workshop, her mind and, in this book, her garden. Leading you through more explorations into uses of polymer clay, liquid polymer and mixed media for a realistic depiction of nature presented in some simple and some more complex projects.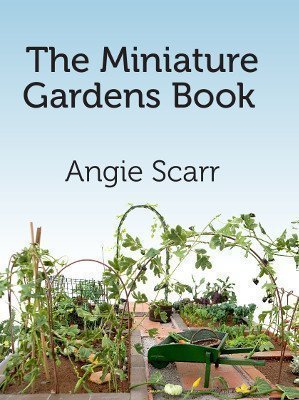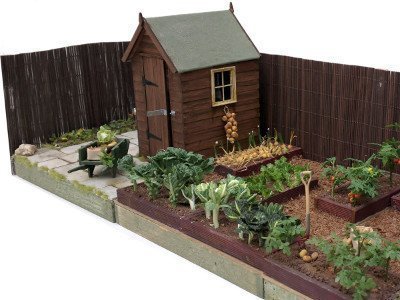 NEW:How to Self-Publish Your Craft Book in 100 days
Have you ever wished you could write and publish a book about your craft, hobby or talent but don't know where to start, or think you lack the funds?
We'll give you the confidence to put your ideas into print. Whether you are a craftsperson or a hobbyist, an artist or a DIYer, a gardener or a dancer - whatever your craft or skill you can share, teach and inspire your audience. Increase your authority in your niche while simultaneously making an extra passive income as part of a multiple income stream business model.
In this second book in the Your Creative Business series Angie Scarr helps you to find your author style as well as your marketing ability and Frank Fisher guides you through the sometimes-scary publishing processes step-by-step. Between us, we will give you the confidence to:
Plan your book
Find a style which inspires
Produce both informative and "eye candy" photographic images
Push through artist impostor syndrome and procrastination
Get through the formatting and publishing process step-by-step
Market your book cost-efficiently
We also suggest ways you can become a published author with a professional-looking result on a shoestring budget if necessary.
Are you ready and eager to become a craft/creative business author? Take How To Self-Publish Your Craft Book In 100 Days along the journey with you, and we'll hold your hand every step of the way.
Click to buy print book
Click to read ebook
Click for FREE planner PDF files from the book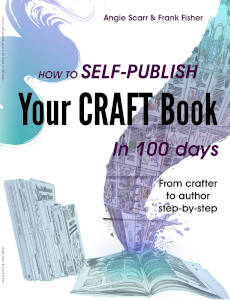 NEW:Your Creative Business
Turn your hobbies and talents into profit with this step-by-step guide for home-working creatives.
Starting your own craft business isn't easy and it can be overwhelming knowing where to start. Even if you've already started a business, sometimes you need help taking it to the next level.
We tell you how to value your time or price your work correctly.
We help you with your artist impostor syndrome.
We show you how to deal with difficult customers.
We encourage you to get your strategy together when you feel overwhelmed.

From deciding what you want to make and developing your ideas, to branding and marketing your own small business, this book guides you through the entire process. It even shows you how to develop multiple income streams in order to future-proof yourself against unexpected global or personal events.
Your Creative Business is written by Angie Scarr and her daughter Kira Swales
Click to buy Colour 6x9 print copy
Click to buy Black & White Starving Artists Edition (A4 Size)
Click to read ebook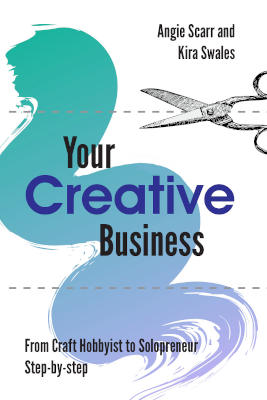 The Frugalist
My Life changed for the better 4 years ago when a life threatening crisis hit me. This book wasn't written for Covid but could have been. If you're facing job loss or change in circumstances buy this book
Asking for a friend.
Click to buy print copy
Click to read ebook
My autobiography: Making It Small
If you enjoy it (and if you're a miniaturist, or a serial creative, or interested in self building or living abroad, or someone with social phobia and/or anxiety issues then you should) please leave a review because that helps too.
Click to buy print copy
Click to read ebook
Not sure? Read the back page blurb here:
Miniaturist, self builder and serial creative Angie, never did things quite the way anyone thought she should. This is the story of how challenging and also how rewarding life can be if you take an unconventional path and stick with it in spite of all indications that disaster is looming. Angie and her 'Computer Geek' husband Frank's exploits in England and Andalucía are unusual, maddening, cringe-worthy and sometimes very funny indeed. There are moments of triumph and moments of despair. And almost always a blind faith and a can do attitude.
Woven through the whole story is her absolute passion for thinking up new creative ideas, sharing them and inspiring other people.
This rags to rags autobiography is both a cautionary and joyful tale for anyone thinking of living a non-traditional creative life, or anyone contemplating making the big leap to another country in the belief that it will all work out.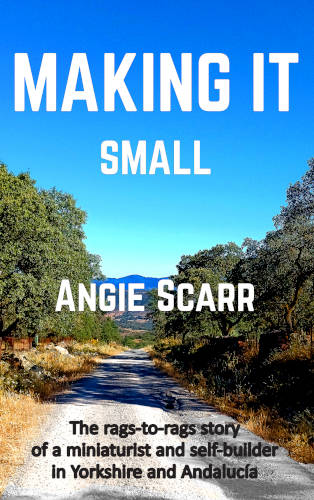 A new type of book! 3D Pen Colour & Construct
The 3D pen book!
Angie and Frank have co-operated to publish a new type of colouring book specifically for 3D pens with a fairy house theme. Lots of you will have been tempted by a 3D pen and may have one unused in your cupboard. You will find 4 styles of house at approximately 24th scale and loads of scenic full scale flowers and weeds in this 'just for fun' introduction ideal as a summer project. Start to work flat on paper and begin constructing afterwards and using armatures and other support materials.
Click to buy print copy
Du wirst hier vier kleine Häuser in verschiedenen Ausführungen, ca. im Maßstab 1:24, eine Menge malerischer Blumen und Kräuter entdecken. In diesem Einführung zum Arbeiten mit dem 3D Stift wird gezeigt wie man Fantasie-Landschaften in einer einfachen Art und Weise, ähnlich wie bei Malbüchern, erstellen kann und dabei viel Spaß hat. Schau Dir an wie man erst flach auf Papier arbeitet und anschließend die Konstruktion erstellt, wie man Armaturen und andere Materialien zur Unterstützungen verwendet. Für Erwachsene und Kinder (unter Aufsicht) gleichermaßen geeignet.
3D Stift: Farben & Konstruktion #1: Deutsch
Making Miniature Foods Book - redesigned
An updated design for the old favourite & bestseller
Angie's first book covers miniature foods for use in the house or market stall, ranging from deli through meat, fish and vegetables.
Thank you everyone who has taken the time to let us know how much you are enjoying the projects. Apologies to all the family members who aren't getting fed!
Click to buy print copy
Miniature Food Masterclass
Angie's 2nd book
Start a voyage of discovery with Angie Scarr as she shares the secrets of her amazingly intricate work in a variety of materials and invites us to join in with her passion for miniature food.
Packed full of new techniques, materials and projects for all miniaturists to delve into, this book is illustrated with easy-to-follow, step-by-step pictures throughout.
Find out how to create a variety of food canes, liquid and translucent effects, glazes, moulding and veining all to amazing real-life effect.
Just some of the projects created with extraordinary attention to detail are: chocolate buttons, heart-shaped cakes, royal icing cheesecake, toffee apples
Angie Scarr is a highly regarded miniaturist, well-known worldwide for her intricate polymer clay work. She is constantly pushing the boundaries of her craft, exploring new techniques and materials.
Click to buy print copy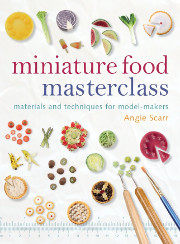 Miniature Challenges Part 1
Groundbreaking projects covering the innovation and progression of many of Angie Scarr's polymer clay techniques, which are now standard in miniature food making today. This series is a look back at the "Challenge Angie" series of articles from 2000-2005 in Dolls House & Miniature Scene magazine and other contemporary articles. A chance for a new generation to see these originals, now long out of print, all written in Angie's slightly irreverent style.
PART 1
Eighteen projects, A5, 62 pages.
Projects:
Wild Boar Head , Live Lobsters , A Brace Of Pheasants , Pineapples, Squid, Eggs, Baked Potatoes, Artichokes, Tapas, Alexandra Palace Fair, Sandwich, Red Cabbage, Sweets, Tongue, Peppers And Pizza, Tomatoes, Moulded Fish (Sardines in crates), Strawberries
Click to buy print copy
Click to read ebook parts 1 & 2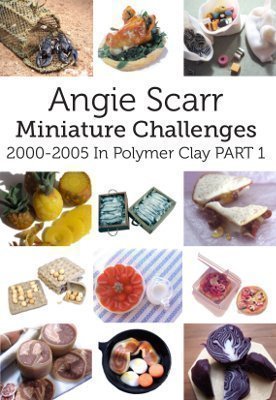 Los Retos De Miniaturas - Edición en Español
El Libro Retos De Miniaturas
Los primeros 18 proyectos aparecidos en la revista DHMS. A5, 62 paginas.
Proyectos:
Cabeza de Jabalí, Langostas vivas, Faisanes, Piñas, Calamar, Huevos, Patatas Cocidas, Alcachofas, Tapas, Feria de Alexandra Palace, Sandwich, Lombarda, Dulces Ingleses, Lengua, Pimientos y Pizzas, Tomates, Pescado moldeado (Sardinas en cajas), Fresas
Clic para comprar
Clic para leer por Kindle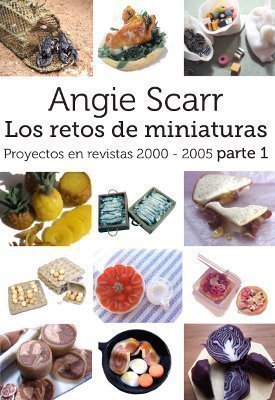 Les Defis Miniatures - Édition Française
Le livre des Defis Miniatures d'Angie
Projets de Magazines en Pâte Polymère. A5, 62 pages.
Tête de sanglier, Homards vivants, Faisans, Ananas, Calamar, Oeufs, Pommes de terre, Artichauts, Tapas, Salon Alexandra Palace, Sandwich, Le Chou Rouge, Bonbons, Langue de Boeuf, Poivrons et Pizzas, Tomates, Moulage de poissons, Fraises
Cliquez pour acheter
Cliquez pour lire par Kindle
Miniature Challenges Part 2
PART 2
Twenty projects, A5, 78 pages.
Projects:
Kiwis, Xmas, Simnel Cake, Rhubarb, Crown Roast, Haggis, Wheelbarrow Of Vegetables, Pomegranates, Melons, Rubbish, Coconuts, Dog Biscuits, Encaustic Tiles, Garlic, Honeycomb, Rocket Lollies , The Titanic - The last meal, Asparagus, Plums, Red & White Onion Canes
Click to buy print copy
Click to read ebook parts 1 & 2